[ Graphics-capable, Standards compliant browser required for full graphic presentation ]
About Neil Duncan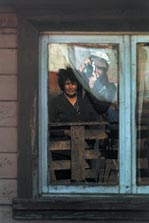 Neil Duncan has been producing world-class photography for a world of clients for more than 30 years. He is a thorough professional.
He has been flown to Asia, Europe and the United States to create stunning pictures. Shooting from the bridge of an oil tanker at sea, hanging from a chopper, descending deep underground or bringing his creativity into the boardroom - the result is always the same. A happy client with an array of great pictures.
Neil spent more than a decade as an international press photographer. He then switched his focus, and has been shooting for a blue-chip collection of corporate clients for the past 20 years. Today he blends his vast experience with a distinctive new approach to photographic art, producing dazzling images that hang in public and private collections throughout Australia.
A specialist at work
From his base in Sydney, Neil specialises in location photography, capturing images for a diverse range of corporate and industrial clients.
His eye for composition and location, lighting skills and the ability to strike an easy rapport with his subjects results in images of the highest quality. Whether it's a sweeping shot of one of the world's largest mines, or an up-close-and-personal portrait of one of the men who make it run, Neil's photographs always tell the story.
He has made the road his home working for clients such as Sandvik, Sasgar, Svitzer, Howden, Hannover Fairs, Brambles, Transfield, Tenix, Patrick Corporation, Macquarie Goodman, Beach Energy, BOC, Elders, Leighton, Credit Suisse, Valley Longwall and Sydney City Ferries.
Photographic exhibitions
After 20 years of making brilliant images for the corporate world, his love of creativity continues. Today Neil produces highly original and distinctive photographic artworks that hang in public and private collections. He has been a finalist in the Moran Prize, the NSW Parliamentary Plein Air Photography Prize, and The Head On Portrait Prize.
Neil's work is featured in the Australian Photography and Gallery Compendium. Since 2008 he has staged several successful exhibitions. He is represented in Sydney by the Josef Lebovic Gallery, and in Melbourne by ELEVEN40 Gallery.
Making the news
As a newspaper and magazine photographer, Neil worked for top publications around the world including The Australian, The Sun and The Times in London. He covered events ranging from Royal Weddings in St Paul's Cathedral to America's Cup yacht races in Rhode Island, test cricket and other big-time sport.
He has photographed a galaxy of celebrities and stars including Jack Nicholson, Bette Davis, Rudolf Nureyev, Joe Cocker, Sammy Davis Jr, Lord Snowdon, Sir Robert Helpmann and many more.
The result was always the same: photographic excellence capturing that rare, magical essence of the subject. And that is still Neil Duncan's professional signature today.